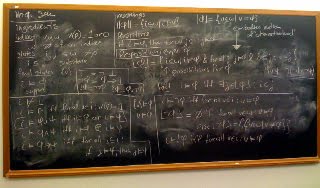 Inquisitive Semantics
:
Spring 2009
• New York • New York University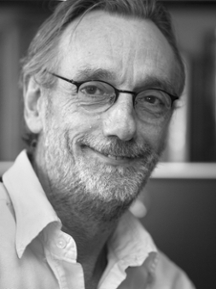 Course material
Sheets of the first meeting.
Background reading: Chapters 1-2 of Questions in Dynamic Semantics (eds. Aloni, Butler and Dekker). Introductory chapter by the editors on the Semantics and Pragmatics of Questions, and my 1999 SALT paper The Logic of Interrogation.
Sheets of the second meeting.
Reading material: the Tbilisi-paper Inquisitive Semantics: Two Possibilities for Disjunction and the much more extended Inquisitive Semantics: Student Version, which also has inquisitive semantics for predicate logic as an appendix. Under Publications you find the Tbilisi paper in a slightly longer concept version, and Salvador Mascarenhas' paper you find there gives you some further material.
The third meeting on Feb. 18 was a 'blackboard meeting', see Chris' picture above. I will put the material I covered (much of it can also be found in the last part of the sheets of the second meeting), in a handout for the fourth meeting of Feb. 25, with new material as well, of course.
On the fourth meeting on Feb. 25 I used a handout. in the meantime this has turned into a draft paper AssertionsQuestionsHybrids.pdf . I will notify and publish updates of the paper-to-be here.
On the 5th and 6th meeting on March 25 and April 1, I discussed a new paper that Floris Roelofsen and I just finished on inquisitive semantics and pragmatics.